Last week, FDA published an updated version of Validator Rules for study data. There are many changes which we have reviewed and summarized for you.
The first change you'll notice is that there are a number of new columns:
FDA Validator Rule ID – a unique rule id that is now consistent across FDA, PMDA, and Pinnacle 21
FDA Validator Message – validation messages produced by the Validator
Publisher – the source of the business or conformance rule, FDA or CDISC
The FDA list now includes the conformance rules published by CDISC, which is the why the list has grown by 317 rules, from 163 to 480. The CDISC rule ids can be found in the Publisher ID column.
Next, the FDA added a reference to SEND-IG 3.1 to show how existing business and conformance rules apply to this standard. CDISC is still working on the conformance rules for SEND-IG 3.0 and 3.1, so this list could serve as a guide for implementers for the time being.
So how does this release effect you?
If you are a Pinnacle 21 Enterprise user, all FDA Validator Rules are already available to you. For Community users, these new rules will become available in 3.0 release scheduled for January.
We prepared the following spreadsheet showing what changed in the latest FDA Validator Rules release. And for Community users, it highlights new rules to expect in 3.0.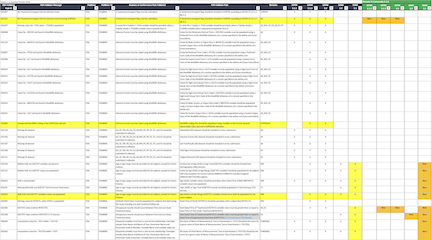 Here is the legend for the spreadsheet:
New rules and new rule assignments are highlighted in

YELLOW

Removed rules and rule assignments are highlighted in

RED

Modified FDA Validation Rule descriptions are highlighted in

GREY

Added text is

blue

Removed text is

strikethrough red

Last 5 columns, highlight new rules in the next release of Community