Intro to aCRF Formatting
"How should I best format the annotations on my CRFs?" We get that a lot. The requirements may feel murky. Users often mimic CDISC's sample aCRF (in the Define-XML v2.0 download). But even then, you might lack confidence on the specific formatting details, and wonder how to fit your content into the usable space.

This is the first in a series of posts where we answer questions from our recent webinar, Best Practices for Annotated CRFs. Below, we've summarized the regulatory expectations and our top insights. For some items, we say "recommend," since there's no formal requirement. View them as best practices found in our talks with industry experts and our review of existing guidance.
Formatting Text
Font size is to be from 9 to 12 points. Use a different or smaller font size only if there is no other way to fit the text in the annotation box. We recommend going no smaller than 8 points.

Note: Use arrows and pointers only if forced to by space constraints. The same applies for putting annotations in the margins of the form. 

Text may be black or red. The FDA PDF requirements demand, in general, black for annotation text and blue for hyperlinks. But in practice, many also use red for annotation text. A common pattern: black for domain level and red for variable level metadata. Avoid blue because it may be misread as a hyperlink.
We recommend writing the domain prefix in the annotation (e.g., APDM.SREL). Its redundancy with the color-coding helps readers who have color vision deficiency.
We recommend wrapping values with quotations marks.

E.g., VSTESTCD="SYSBP" is better than VSTESTCD=SYSBP because the quotes show that "SYSBP" is a value, not a variable.

We recommend keeping the actual SDTM annotations separate from any additional special notes you may have.
See the example aCRF below that illustrates these points.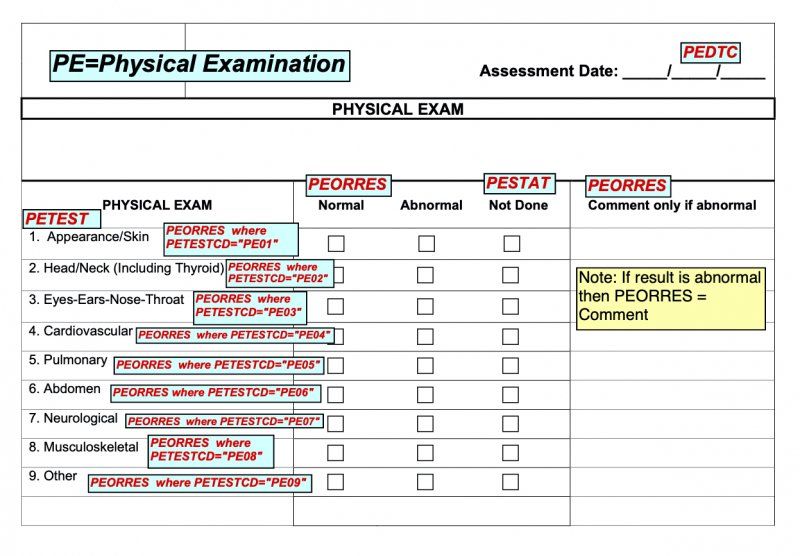 Formatting Backgrounds
If one form has multiple Domains, use different color backgrounds for those Domains. You don't need to maintain this color-coding on later pages that have only one Domain.

E.g., one form has only CM; its background is blue. Another form has only AE; its background can be blue too. But if the same form has both CM and AE, one should be a different color than blue.
Note: If you have DM and SUPPDM in the same form, use the same color background for both. Color-coding is by domain only. SUPPs are not domains, but simply datasets related to a parent domain.

We recommend using a different background color for NOT SUBMITTED annotations, preferably light grey.
We recommend copying the background colors in the CDISC sample aCRF (in the Define-XML v2.0 download). Its example annotations have pastel backgrounds.
See the example aCRF below that illustrates these points.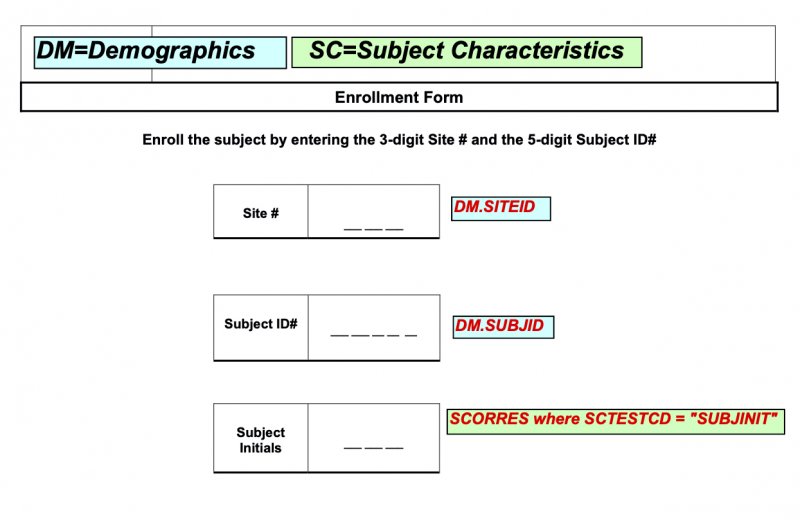 More to Come
We hope these items give you a confident default for your workflow. For further reading, see our white paper. And please check back as we continue this series of posts! 
Reference: Table of Conventions
This table shows the naming conventions frequently encountered in making aCRFs.
Type
Convention
Example
Dataset
XX = Domain Label
AE = Adverse Events
Variable

VARNAME

XX.VARNAME

VARNAME1/VARNAME2

AETERM

DM.SUBJID

EXSTDTC/EXENDTC

Variable and Value

VARNAME = "VALUE" 

VARNAME1/VARNAME2 = "VALUE" 

DSTERM = "RANDOMIZED" 

DSTERM/DSDECOD = "RANDOMIZED"

Value Level

SUPPXX.QVAL where QNAM = "VALUE" 

VARNAME1 where VARNAME2 = "VALUE" 

VARNAME1 where VARNAME2 = "VALUE1" AND VARNAME3 = "VALUE2" 

SUPPQS.QVAL where QNAM = "RTRINIT" 

VSORRES where VSTESTCD = "SYSBP" 

FAORRES where FATESTCD = "ONSETDTC" and FAOBJ = "TRIAL DISEASE"

Unsubmitted data
[NOT SUBMITTED]
[NOT SUBMITTED]