Released March 31, the new P21 Enterprise 4.0 provides more options for submitting study data to the Japanese health authority PMDA, plus better ways to manage validation issues and reports, as well as new validation rules and support for STDMIG 3.3.
P21 Enterprise 4.0 addresses concerns raised by our customers who submit data to both FDA and PMDA. Historically, regulators at the two agencies have embraced clinical data standards and conformance rules at different rates and degrees of severity.
Running data validations for PMDA has required a separate compliance strategy, plus extra time for validation and regulatory submission. Too often, sponsors worry that PMDA submission packages will fall short of reviewer expectations.
Multiple Validation Engines for FDA & PMDA
P21 Enterprise 4.0 eases these concerns with multiple validation engines that run either FDA or PMDA rules in the same environment. The new system will boost confidence in PMDA submissions because sponsors get to see the format and content of validation results before submission.
The dialogue box below shows new data package configuration options for validation engine compatibility.


Run validations with FDA & PMDA rules and engine
together or separately in the same environment.
Automated Issue Explanations Improve Consistency
P21 Enterprise 4.0 also improves compliance and productivity with automated issue explanation suggestions.
The new Issue Explanations module improves validation issue management and provides greater consistency for reviewer's guides. It offers suggested issue explanations derived from templates uploaded by authorized users or from other studies in the same project.
Shown below, the module provides a selection of either organization recommended explanation, the last comment, or explanation from another study. Increased transparency, consistency and efficiency are the three key objectives for this new module.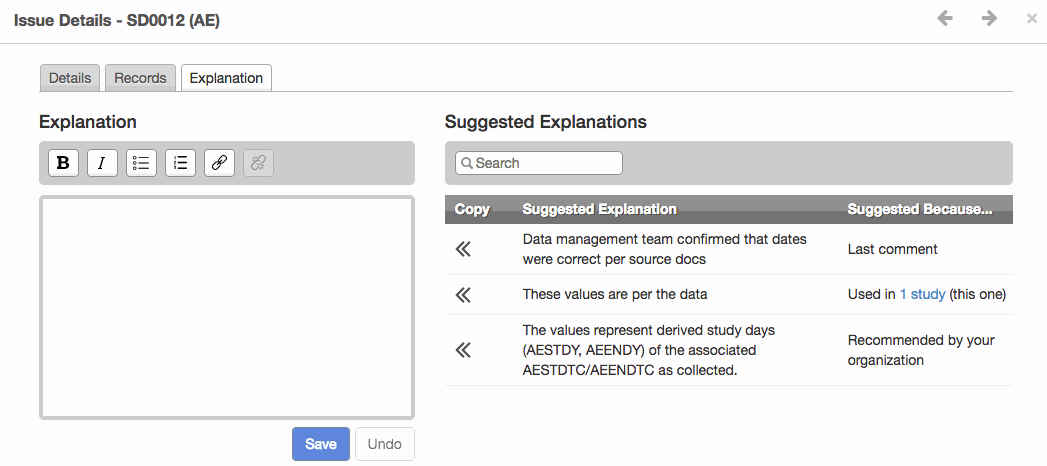 Apply a Suggested Explanation to an issue and see it exported to the Reviewer's Guide.
Expanded Excel Validation Report
Also new in P21 Enterprise 4.0, the Excel validation report is expanded to export data in the Comments, Assigned, Tags, and Explanation fields. This makes it easier to communicate more broadly with partners outside the P21 Enterprise 4.0 environment. The enhancement improves sponsor and vendor collaboration, and user experience.


Enhanced Validation Report contains 4 new columns – Comments, Assigned, Tags, and Explanation.
Other Reporting Enhancements
Two additional benefits of P21 Enterprise 4.0 are shown below. First, users can now filter issues based on data fitness category (see Issues tab). Second, they can remove validations from the Validation History (note Exclude column) that were run in error.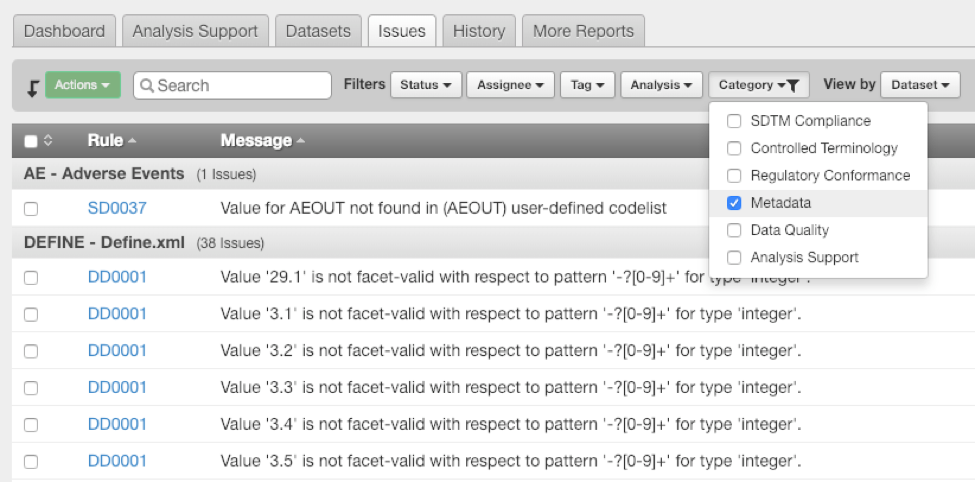 Filter issues based on data fitness category.


Click "Exclude" to remove a validation from history.
What Else is New?
Among many improvements, we also updated and fine-tuned validation rules across standards including:
Added 36 new validation rules
Applied recently published SDTMIG 3.2 rules to prior versions of SDTMIG where applicable
Added support for SDTMIG 3.3
Fine-tuned SENDIG validation rules 
For a complete list of enhancements and bug fixes, please see the P21 Enterprise 4.0 Release Notes in our Service Desk.