With the latest Pinnacle 21 Enterprise 3.4 release, we continue to bring efficiencies to your data standardization and compliance efforts. This release features a number of new enhancements and compliance checks that you have been asking for. This release also marks the formal roll-out of our new customer-centric initiative and a dedicated Customer Success Team.
We recently hosted a webinar presenting the new features. You can watch the video, access the slides, review the Q&A, or read the summary below.

Webinar Video
Validation Against Sponsor Standards and Terminologies
We added 15 new rules (SPxxxx) that now make it possible to validate study datasets against your company's standards and terminologies. These rules align and run in parallel to existing rules that validate against CDISC standards and controlled terminologies. This will provide users additional flexibility and help support compliance efforts at all stages of data standardization.
Before you can validate, make sure to first import your company standards and terminologies into Enterprise. The system provides two methods for importing, you can either use the Pinnacle 21 Excel template or your own template via a custom adapter.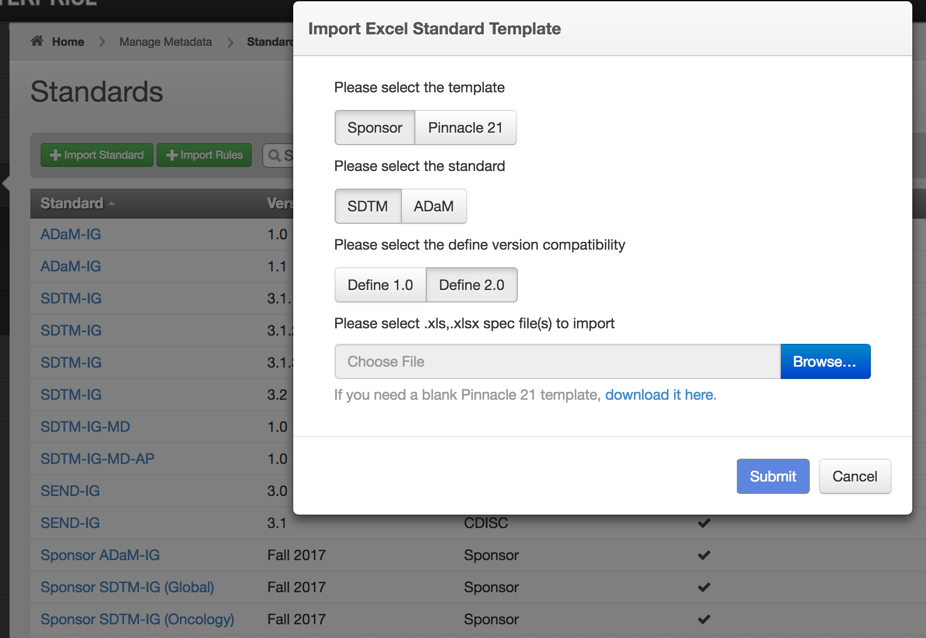 Importing Standard
ADaM-IG 1.1 beta rules
This has been the most frequent request from our user base!
FDA started accepting ADaM-IG 1.1 on March 15, 2018, while CDISC is only scheduled to publish the rules in December 2018. In the meantime, we added beta rules in Enterprise 3.4 to allow you to begin implementing and checking compliance with ADaM-IG 1.1 standard.
Interesting facts about ADaM-IG 1.1:
Improved algorithm for identifying datasets:

ADSL, ADAE – identified by dataset name
BDS – any dataset with PARAMCD, AVAL
OCCDS – any dataset with *TRT, *TERM, but no PARAMCD
ADaM OTHER – any other dataset that starts with "ad"

CDISC added 45 new business rules and deprecated 79 existing business rules. The removal of rules is aimed at reducing false positives.
Algorithms of many existing business rules have been changed for ADaM-IG 1.1, but were kept the same for ADaM-IG 1.0.
Public review for ADaM-IG 1.1 rules is targeted for August/September 2018, giving you a chance to test-drive the rules and provide valuable feedback to the CDISC ADaM validation subgroup. We will continue providing updates to the beta rules throughout the public review period. As soon as CDISC publishes the final rules, we will make the final ADaM-IG 1.1 rules available in Enterprise without delay.
SDTM-IG 3.2 additional rules
Enterprise 3.4 now offers the most comprehensive set of SDTM-IG Conformance checks. 90 new rules have been added, bringing the total number of checks to 304.
SEND-IG 3.1 beta rules
CDISC team is currently working on drafting validation rules for SEND-IG 3.1. Since FDA has already begun accepting this release of the standard, we have created a beta implementation of the rules to assist our customers. The beta implementation extends the current set of rules to new SEND-IG 3.1 domains.
Where Clause Builder
The new Where Clause Builder widget in 3.4 helps you define complex Where Clauses for value level metadata or Selection Criteria for analysis results metadata. You can launch the Where Clause Builder within the define.xml tool by selecting the pencil icon.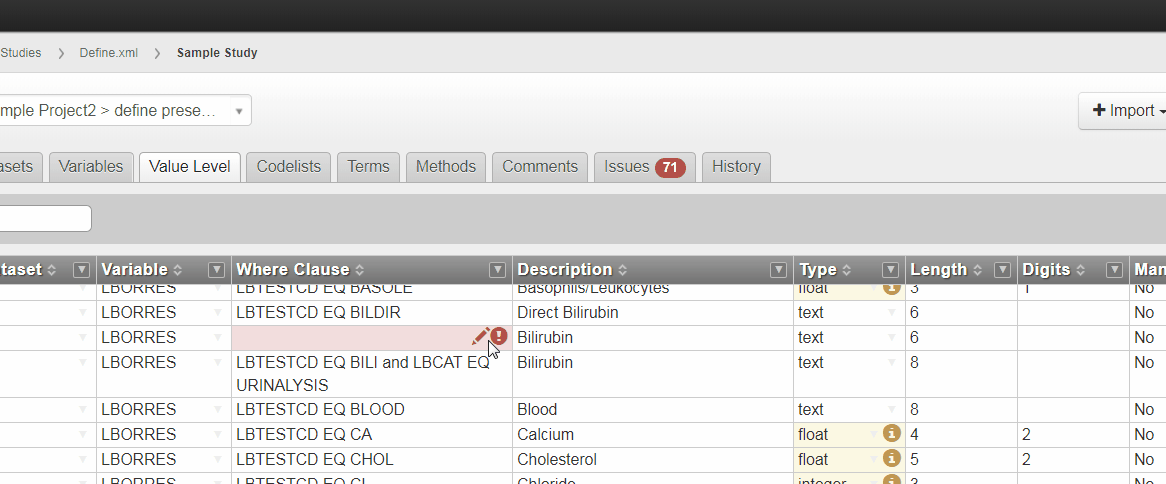 Building a Where Clause
Global Export of Reviewer's Guide
The review process can be expedited by the development of a well-crafted Reviewer's Guide. In addition to the existing functionality of automating a Reviewer's Guide for SDTM or ADaM with FDA or PMDA issues, there is now the option to export a Global Reviewer's Guide, which can be used to explain all issues if submitting to both agencies.
Other Enhancements
There are several other enhancements and bug fixes included in Enterprise 3.4. For further details, please refer to the Release Notes in our Service Desk.
If you have any questions about the new Enterprise release, contact us at success@pinnacle21.com